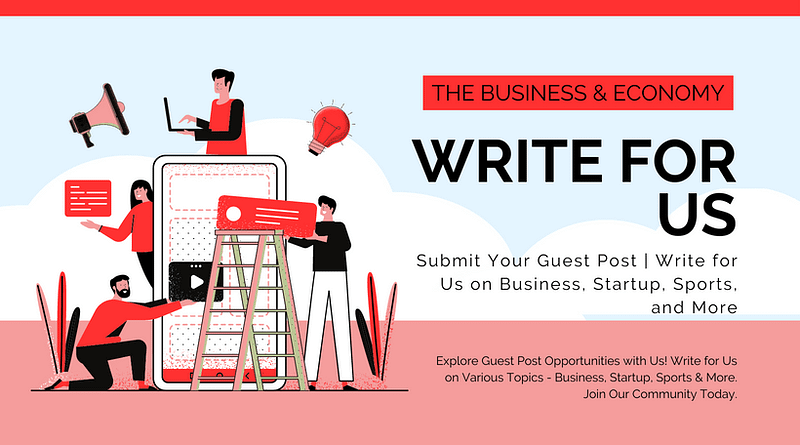 Write for Us / Guest Post
We're excited to invite talented writers, industry experts, and enthusiasts to contribute to our diverse blog's Guest Post. Our platform covers a wide range of topics, including business, startups, the economy, sports, fitness, education, culture, and technology. We'd love to hear from you if you have unique insights, valuable knowledge, or captivating stories to share. Join us in contributing to our growing community of readers who are eager to learn, engage, and stay informed.
Guidelines for Guest Posts
Before submitting your guest post, please take a moment to review our guidelines. Following these guidelines ensures that your content aligns with our blog's tone, quality, and subject matter.
Relevance: Your article should fall within the scope of our blog's categories – business, startups, economy, sports, fitness, education, culture, or technology.
Originality: We welcome original, well-researched, and insightful content. Plagiarism or content that has been previously published elsewhere will not be accepted.
Quality: Maintain high writing standards with proper grammar, spelling, and punctuation. Craft your content to be engaging, informative, and valuable to our readers.
Length: Articles should typically be between 700 to 1500 words. However, the focus should be on delivering value, so don't force-length if it's not necessary.
Structure: Organize your content with subheadings, bullet points, and images where appropriate. Make your content easy to skim and visually appealing.
Citations: If you're referencing data, studies, or external sources, please include proper citations and references.
Editing: Our editorial team may perform minor edits for clarity and style. Significant changes will be discussed with you before publishing.
How to Submit Your Guest Post
Submitting your guest post is a straightforward process:
Pitch: Start by sending us a brief pitch outlining your article idea. Include a short summary, key points, and why your article would be valuable to our readers.
Approval: Once your pitch is accepted, we'll provide you with the green light to proceed with the full article.
Draft: Write your article according to our guidelines and the approved pitch.
Review: Submit your draft to us for review. Our editorial team will assess it for quality, relevance, and adherence to guidelines.
Feedback: We may provide feedback for revisions. Open collaboration ensures the best possible outcome.
Finalize: Make necessary revisions and submit the final version of your article.
Publication: Upon approval, your article will be scheduled for publication. We'll notify you about the publication date.
FAQs (Frequently Asked Questions)
Q: Can I write about a topic that has already been covered on your blog? A: Yes, you can cover a topic that has been covered before, but your approach and insights should be fresh and unique.
Q: Do you accept articles with promotional content or backlinks? A: We prioritize informative content over promotional material. Any backlinks should be relevant and add value to the article.
Q: What is the review process like? A: Our editorial team reviews submissions for quality, relevance, and adherence to guidelines. We may suggest revisions to enhance your article.
Q: Can I republish my guest post on my blog or other platforms? A: We appreciate exclusive content. If you'd like to republish your guest post, please provide proper attribution to our blog as the original source.
Q: How long does it take for a guest post to be published? A: Once your article is approved and finalized, it usually takes around 3 to 5 days for publication, depending on our editorial calendar.
Did you know that our network extends beyond this blog? Our partners operate an exciting travel and tours blog that welcomes guest posts as well. If you're a travel enthusiast or industry expert with captivating stories or insights to share, we invite you to contribute to our travel blog. Learn more about submitting guest posts related to travel by visiting SafarParast – Travel Blog Guest Post. Join us in creating a diverse community of writers and readers passionate about exploration and discovery.
We're looking forward to receiving your insightful guest post submissions and sharing your expertise with our readers. Together, let's contribute to the enrichment of knowledge and engagement within our vibrant community. For further, Please Contact Us or write us at info@thebusinesseconomy.com.
Also Write for Us about Travel & Tours
Happy Writing! 🙂